Vuokatti 2021 World Para Nordic Skiing World Cup on 15th – 27th Mar 2021
PLEASE NOTE that dates have changed! It is possible to arrive Finland earliest on Sunday 14.3.
The website and SDMS have been updated accordingly.
Additional information regarding the Biathlon races: Due to the absence of a penalty loop, we decided to only have two Biathlon races. The Biathlon Sprint race will see time penalty calculations for each missed shot.
Vuokatti Sports Resort is pleased to host again with World Para Nordic Skiing a World Cup event for cross country skiing and biathlon. Event takes place in heart of Finland Sotkamo, Vuokatti. Challenging tracks, beautiful views and hard competitions are meeting the athletes all around the world.
Info channel WhatsApp, please join:
https://chat.whatsapp.com/Gsph1eQA47a41PCnji3UGE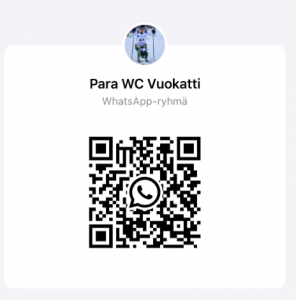 Media
Daily highlights and interviews, photos:
https://www.facebook.com/Vuokattisport/?ref=bookmarks
https://www.facebook.com/parasnowsports
https://www.facebook.com/xcteamfinland/?fref=ts
#WorldCupVuokatti #paranordic
Also Instagram @parasnowsports , @vuokattisport & @xcskiteam , Twitter @parasnowsports & @xcteamfin
Entries
Biathlon and Cross-Country World Cup in Vuokatti Finland entry (e-mail) shall be sent to the Organizing Committee sales@vuokattisport.fi and ann-mary.ahtava@vuokattisport.fi.
https://www.paralympic.org/nordic-skiing/events
Preliminary entry info (accommodation & team size) by 12 Feb 2021.
Race Entries by 5th Mar 2021 Online entries system: https://db.ipc-services.org/sdms/app/login
Competition Fee
According to the IPC Competition Fee.
The competition fee is 25 € / athlete / race. This will be paid to LOC upon arrival to Vuokatti. It can also be paid beforehand to the Bank Account of Vuokatti Sport Resort FI0254360920118208 in case that is more suitable.
Visas
For those who need visa for entering Finland, please do not forget to apply for it in advance. We will be glad to assist you. Just send the completed name list (with dates of birth) for visa to the organizing committee.
Transportation
All accommodation is located just next to the Cross country stadium and warming up tracks (approx. 150m) so transportation to the stadium is not needed. If required, arrangements will be made for transportation to Biathlon stadium.
Airport transfers are in accordance with flight arrival. Please contact sales@vuokattisport.fi.  For more information, contact competition coordinator, ann-mary.ahtava@vuokattisport.fi, Ann-Mary Ähtävä
Travel
Vuokatti is located about 600km from Helsinki. Oulu airport is located about 200 km away.
Accommodation
All nations will be accommodated in Vuokatti Sports – The official Athlete Village hotel.
Please be clear with exact room requirements and quantity required for you team.
Inquiries and bookings for accommodation: sales@vuokattisport.fi
Accommodation Price Range
All guests will be accommodated at standard or superior room level in the main hotel building and the Vuokatti Chalet annex. World Cup accommodation fee is fixed at full board per person 105€/night. Extra fee for single room 25€/room/night.
For the reservations outside that period and first snow training camp please ask an offer from the reservations department: sales@vuokattisport.fi or tel. +358 86191500
Facilities
Team Captains' Meetings will send our via Zoom, link will be available in the team info whatsapp-group, no competition office available, all the necessary information via whatsapp. Bibs and transponders will every athlete get themselves individually from the stadium just before start.
Wax-cabins will be located next to the stadium. If you want to rent waxing cabins for your team please contact Vuokatti Sport Resort sales office sales@vuokattisport.fi +358 86191500
Waxing Rooms for rent during the competition period
15m2 waxing rooms, price 500€ / event, reservations from sales@vuokattisport.fi
For more information please contact

Competition coordinator – Mrs Ann-Mary Ähtävä ann-mary.ahtava@vuokattisport.fi or sales@vuokattisport.fi
Opistontie 4, 88610 Vuokatti, FINLAND or NordicSkiing@WorldParaSnowSports.org