Vuokatti 2023 FIS Para Nordic World Cup on 7.-18.12.2022
Vuokatti is pleased to host again FIS Para Nordic World Cup event for cross country skiing and biathlon. Event takes place in heart of Finland Sotkamo, Vuokatti. Challenging tracks, beautiful views and hard competitions are meeting the athletes all around the world.
Info channel, please join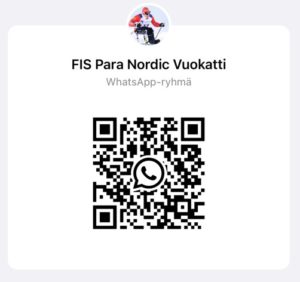 https://chat.whatsapp.com/FEA4P1DSkf4Ahv1y0oFMim
Competition format
https://www.fis-ski.com/en/para-snowsports/para-nordic/calendar-results
Preliminary schedule (LOC has right to change the order of race days)
December 2022
7
8
9
10
11
12
13
14
15
16
17
18
Wed
Thu
Fri
Sat
Sun
Mon
Tue
Wed
Thu
Fri
Sat
Sun
Arr
Tr
Tr
CC
CC
Tr
BT
CC
Tr
BT
BT
BT
Class
Class
5kC or 10k F
Spr F
Ind
10k C
Mid
TS
Spr
Media
Daily highlights and interviews, photos:
https://www.facebook.com/Vuokattisport/?ref=bookmarks
https://www.facebook.com/xcteamfinland/?fref=ts
#WorldCupVuokatti #paranordic
Also Instagram @vuokattisport & @xcskiteam
Entries
Preliminary entry info (accommodation & team size) by 31.10.2022. Entry (e-mail) shall be sent to the Organizing Committee sales@vuokattisport.fi and riikka.rajaniemi@vuokattisport.fi
Race Entries by number by Monday 31.10.2022 via online entries system. Link will be coming soon!
Entries by name by 2.12.2022 in the same system.
Competition Fee
According to the FIS rules, the amount will be released later. This will be paid to LOC upon arrival to Vuokatti. It can also be paid beforehand to the bank account of Vuokatti Sport Resort FI0254360920118208 in case that is more suitable.
Classification
Classification information will be released later.
Visas
For those who need visa for entering Finland, please do not forget to apply for it in advance. We will be glad to assist you. Just send the completed name list (with dates of birth) for visa to the organizing committee.
Transportation
All accommodation is located just next to the cross country stadium and warm-up tracks (approx. 150m) so transportation to the stadium is not needed. If required, arrangements will be made for transportation to Biathlon stadium.
Travel
Vuokatti is located about 600 km from Helsinki. Kajaani airport is 35 km away, and Oulu airport about 200 km away from Vuokatti. Airport transfers are in accordance with flight arrival. Please contact sales@vuokattisport.fi.  For more information, contact competition coordinator, Riikka Rajaniemi riikka.rajaniemi@vuokattisport.fi.
Accommodation
All nations will be accommodated in Vuokatti Sports. Please be clear with exact room requirements and quantity required for you team. Inquiries and bookings for accommodation: sales@vuokattisport.fi
Accommodation Price Range
All guests will be accommodated at standard or superior room level in the main hotel building and the Vuokatti Chalet annex. World Cup accommodation fee is fixed at full board per person 125 €/night. Extra fee for single room 25 €/room/night.
For the reservations outside the event period and first snow training camp please ask an offer from the reservations department: sales@vuokattisport.fi or tel. +358 86191500
Facilities
Team Captains' Meetings will send our via Zoom, link will be available in the team info whatsapp-group closer to the event. No competition office available at the venue, all the necessary information is shared via whatsapp.
Bibs and transponders are distributed at the stadium just before start.
Wax Cabins for rent during the competition period
15m2 wax cabins, price 500€ / event, reservations from sales@vuokattisport.fi. Wax cabins will be located next to the stadium. If you want to rent waxing cabins for your team please contact Vuokatti Sport Resort sales office sales@vuokattisport.fi +358 86191500
For more information please contact

Competition coordinator – Mrs Ann-Mary Ähtävä ann-mary.ahtava@vuokattisport.fi or sales@vuokattisport.fi
Opistontie 4, 88610 Vuokatti, FINLAND