Vuokatti 2021 World Para Nordic Skiing Europa Cup 17.-21.12.2021
Vuokatti Sport Resort is pleased to host World Para Nordic Skiing Europa Cup event for cross country skiing and biathlon. Event takes place in heart of Finland in Sotkamo, Vuokatti.
https://www.paralympic.org/nordic-skiing/events
Please join to our main info channel whatsapp-group
https://chat.whatsapp.com/FEA4P1DSkf4Ahv1y0oFMim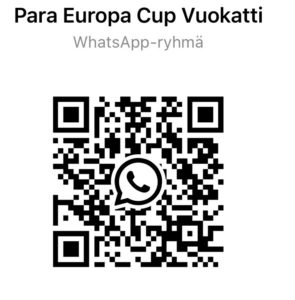 Entries
Vuokatti 2021 World Para Nordic Skiing Europa Cup entry (e-mail) shall be sent to the Organizing Committee at sales@vuokattisport.fi and ann-mary.ahtava@vuokattisport.fi. Preliminary entry info (accommodation & team size) by November 5, 2021.
Race Entries in the online entries system: https://db.ipc-services.org/sdms/app/login
Competition format and schedule

Cross Country: December 17th and 18th
Biathlon: December 20th and 21st
17.12. CC Short C at 10:00
18.12. CC Middle F at 10:00
20.12. BT Sprint at 10:00
21.12. BT Individual at 10:00
Competition Fee
According to the IPC Competition Fee. The competition fee is 25 € / athlete / race. This will be paid to LOC upon arrival to Vuokatti. It can also be paid beforehand to the bank account of Vuokatti Sport Resort FI0254360920118208 in case that is more suitable.
TCM
At 6pm on 16th Dec (Zoom) CC Short and Middle
At 6pm on 19th Dec (Zoom) BT Sprint and Individual
Visas
For those who need visa for entering Finland, please do not forget to apply for it in advance. We will be glad to assist you. Just send the completed name list (with dates of birth) for visa to the organizing committee at sales@vuokattisport.fi.
Transportation
All accommodation is located just next to the Cross country stadium and warm up tracks (approx. 150 m) so transportation to the stadium is not needed. If required, arrangements will be made for transportation to Biathlon stadium.
Vuokatti is located about 600 km from Helsinki. Oulu airport is located about 200 km and Kajaani airport 45 km away.
Accommodation
All nations will be accommodated in Vuokatti Sports – the official Athlete Village hotel. Please be clear with exact room requirements and quantity required for you team.
All guests will be accommodated at standard or superior room level in the main hotel building, the new Sport Apartments and the Vuokatti Chalet annex. Europa Cup accommodation fee is fixed at full board per person 110 €/night in 3 person rooms. Extra fee for single room 25 €/room/night.
For the reservations outside the event period and first snow training camp please ask for an offer from the sales office
Facilities
Wax-cabins will be located next to the stadium. If you want to rent waxing cabins for your team please contact Vuokatti Sport Resort sales office. The rent for 15m2 waxing rooms is 500€ / event.
Covid-19
The current rules for entering Finland can be found from Finnish institute for health and welfare website. In short:
– fully vaccinated people or those with a proof of Covid-19 disease recovery can enter Finland without testing (see this website for a list of approved vaccines)
– if entering Finland without a full vaccination, a negative test result is needed to enter, as well as another test 72 hrs after entering.
Please use https://www.finentry.fi/en/ website to see what is needed in your case.
Fully vaccinated (or someone who's had Covid-19 in the past 6 months) participants will not be tested at the event. Non-vaccinated will be tested 1-3 days after their arrival to Finland with the antigen test (100 €/test/person).
If someone needs PCR test for own country regulations, test fee is 170 €/test/person. Please let us know in advance if you want to book departure tests (not available on Sat or Sun)
Classification
VI classification will be held 14.-15.12. in Kajaani
PI classifications will be held 15.-16.12. in Vuokatti
Media
https://www.facebook.com/Vuokattisport/?ref=bookmarks
https://www.facebook.com/parasnowsports
https://www.facebook.com/xcteamfinland/?fref=ts
#VuokattiParaCup #paranordic
Instagram @parasnowsports , @vuokattisport
Twitter @parasnowsports & @xcteamfin
For more information please contact

Competition coordinators Mrs Ann-Mary Ähtävä ann-mary.ahtava@vuokattisport.fi or Ms. Mette Leskinen mette.leskinen@vuokattisport.fi
Opistontie 4, 88610 Vuokatti, FINLAND
For booking accommodation, transportation, wax cabins and other sales inquiries please contact sales@vuokattisport.fi or +358 8 619 1500.